Eight months after losing to Canada at the 2017 Hlinka Memorial Tournament on home ice, the Czech Republic has defeated their North American rivals 2-1 in one of the biggest upsets in recent World Under-18 Hockey Championship history. Read more»
26 Apr 2018 | USA's hunt for their eighth gold medal in the past decade has gotten closer at the Under-18 World Hockey Championships thanks to a 5-1 victory over the hosts from Russia on Thursday evening. Read more»

25 Apr 2018 | Home team easily crushed Japan and seems destined to earn the promotion Read more»

25 Apr 2018 | Another solid performance and a late goal by Riho Embrich gives the second victory for Baltics against an unlucky Romania, on the verge of relegation Read more»
Dubai Mighty Camels won Emirates Hockey League
The iconic Dubai Mighty Camels won the fourth title of Emirates Hockey League, becoming the major winner of the competition, sweeping regular season champion Al Ain Theebs in two games of the final, 7-3 and 8-2. In the semifinals both teams needs 3 games to defeat Abu Dhabi Scorpions and Abu Dhabi Storm respectively.
Al Ain Theebs Russian forward Artur Zainutdinov finished as Top scorer with remarkable 60 points (43+17) in 14 game
(25 Apr 2018)
Agidel Ufa wins Russian Championship
Agidel Ufa beat Tornado 4-1 to win the Russian Women's Championship for the first time. Agidel won all playoff games - first both semi final games against SKIF and then all three final games against Tornado.
(23 Apr 2018)
Jesenice again in Slovenia
HDD Jesenice confirms the title of Slovenian League by beating eternal rival HK Olimpija Ljubljana in 4 games of final series, with the decisive 4-1 victory on Olimpija ice, at Tivoli Arena. Since the indipendence of Slovenia, only the two archrivals shared all the titles, with Olimpija leading with 13 victories and HDD Jesenice - the reincarnation of HK Jesenice folded in 2012 due to bankruptcy - with 12.
HK Olimpija Ljubljana forward Crt Snoj finished as Top Scorer with 32 points (10+22) in 14 games
(16 Apr 2018)
Greece Ice Hockey League 2018 announced
EOXA, the Hellenic Federation for Winter Sports, which is in charge for the sport of ice hockey in Greece announced that the 2018 Greek National Hockey Championship will take place on the following dates:
21-22, April, 2018
28-29 April, 2018
05-06 May, 2018
The games will take place in Athens and Thessaloniki.
(16 Apr 2018)
SA Vikingar is champion of Iceland
SA Vikingar Akureyri brings back title of Icelandic League after conceding the honour last season to UMFK Esja Reykjavík, now beaten in 3 games of final series 8-5, 5-4ot and 6-2 with a great performance by forward Johann Leifsson, notching 4 goals and 9 assists in the series. Player-coach of SA, Finnish Jussi Sipponen finished as Top Scorer of regular season with 68 (30+38) points
It's title number 20 in the history of club, the most successful in history of Icelandic hockey.
The title also marked the end of the career of Sigurdur Sveinn Sigurdsson, the most representative player of SA and one of the leading figures in the history of Icelandic hockey, who closes his journey in ice hockey with the incredible record of 21 titles in 27 seasons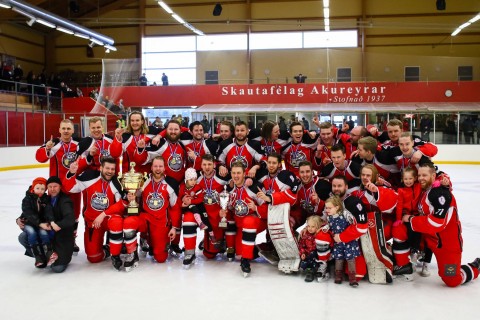 Photo: Icelandic Federation
(10 Apr 2018)
Neman retains title
Seventh title of Belarus Extraliga for Neman Grodno that defeated arch rival Yunost Minsk after six games in the final series, with a decisive 3-2 at Chizovka Arena in front of 7000 spectators.
"We did a good job. This is the victory of the whole staff, the leadership of the club and the fans." said Russian coach Sergei Pushkov
(07 Apr 2018)
Sport Club Miercurea Ciuc takes back the title in Romania
Team with the most titles in the 2000s, Sport Club Miercurea Ciuc interrupts a 4-year fast by winnig the 2017-2018 Romanian League by beating 4-3 at overtime in a dramatic game 6 the major rival and reigning champion Corona Brasov. The finals has a uncommon trend with Sport Club, that had easily eliminated Steaua Bucharest in the semifinals, winning 9-7 and 6-5ot first 2 games, losing 2-1ot game 3. The balance was brutally broken in game 4, with Sport Club hammering 10-1 Corona in Brasov, already anticipating the title in front of their fans. But Corona Brasov did a small miracle winning 2-3 game 5 in Miercurea Ciuc, before to surrender to a Csanad Fodor decisive goal tonight.
Traditional Steaua Bucharest closed a very positive season winning bronze series against ambitious Progym Gheorgheni, that announced to submit application to join Erste Liga next season. The biggest disappointment is Dunarea Galati, twice champion 2 seasons ago and with a one-season partecipation to Erste Liga, now sinking in debts and finished 5th, just ahead of eternal last Sportul Studentesc Bucharest, finishing the umpteenth season without winning even one game. Dunarea announced right after the end of regular season that the club very likely won't partecipate in the next season
Veteran Vaclav Novak finished again as top scorer with 63 points (31+32)
(05 Apr 2018)
Jonathan De Castro named Head Coach of Philippines
Filipino-American Jonathan de Castro is the new Head Coach of Philippines Men's National Team. De Castro, from Long Beach, California, worked as goaltending coach in the New York area, for Long Island Royals and Manhattanville College men and women teams. From last January he worked also as Director of Hockey Development and Director of Player and Coaching Development for the Philippine Hockey Federation. DE Castro will lead Philippines at the Challenge Cup of Asia in Manila from April 3 to 8
(02 Apr 2018)
Do you know that you can support us and show your support for your favourite player or club at the same time. Find the profile of your favourite and click the link to buy a sponsorship of the profile.

Staff wanted
A large group of hockey fans from around world has helped build this site. We are always looking for more people that want to help out. It doesn't matter if you want to write articles, work with player stats or just want to help out with something else. If you're interested in helping us making this site even better, please contact us at
info@eurohockey.com.

Online Casinos Resources Specially designed for hockey fans you can find hockey league themed online slot machine games and experience the atmoshpere of an ice hockey arena. For guidance and overview on finding the best sites to play hockey slots and other online casino games check out www.casinocanuck.com or www.toponlinecasinos.ca.
Forums are great
Discuss your favourite team or player with other fans on one of our discussion boards!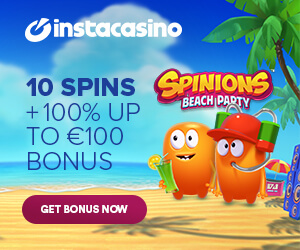 Current events
Czech Rep.: Tipsport extraliga | 1.liga | 2.liga
Slovakia: Tipsport Extraliga | 1.liga
Sweden: SHL | HockeyAllsvenskan
Other: EBEL | Belarus | Croatia | Denmark | Estonia | France | Great Britain | Iceland | Italy | Latvia | Lithuania | MOL-liga | Norway | Poland | Romania | Serbia | Slovenia | Spain | NHL | AHL |
League standings
Game fixtures
League leaders